Several weeks ago, my family and I attended my daughter's cheerleading championships. Upon entering the arena, a torrent of candy-colored signage promoting the company's social media accounts and in particular, a custom Snapchat filter created just for the day's event, greeted us.
Knowing my own daughter would surgically attach her phone to her hand if she could, I guessed the filter would prove popular among the gazillion or so teen girls flitting around the arena, as well as all the parents, family, and friends in the stands. What I didn't realize was just how wildly popular it would be – the snaps were piling up, hundreds of stories were being updated in real-time, and views were soaring higher than a cheerleader at the top of a basket toss.
The team's parent corporation recently went through a top-to-bottom rebranding exercise, including the introduction of a new name and logo. As I looked around the arena and saw how many people were happily snapping away, it dawned on me just what a savvy move having a custom filter was. With every new snap, not only were participants bringing additional attention to the day's event, its new name and logo were broadcast to thousands of potential customers right in their target demographic. That's what I call effective social media marketing.
Bro, Do You Even Snap?
Believe it or not, Snapchat has only been around since 2011. I say "only" because in those short few years, Snapchat's active daily user population has handily eclipsed Twitter's, at 150 million and less than 140 million respectively. And what's more, it has managed to do what Twitter (and before it, Foursquare) can't seem to figure out: attract and retain a rapidly growing, diversifying user base and advertisers willing to pay – often through the nose – for access to those users.
Having established a solid footing in consumer and B2C, Snapchat is starting to attract notice from the B2B community. And why shouldn't it? It has become something of a force majeure, at least according to this handful of eye-popping facts and figures: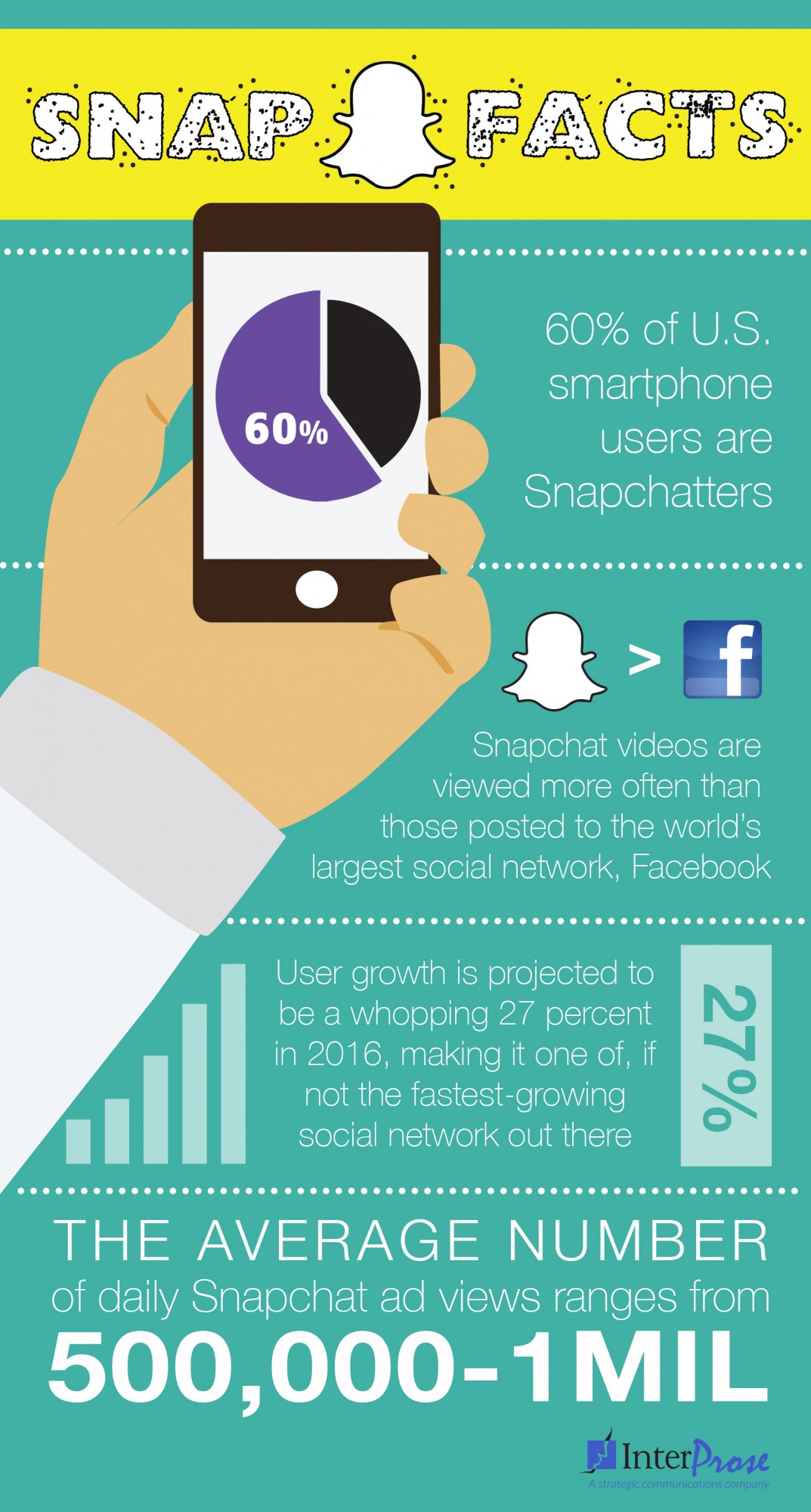 While this tidal surge of growth and popularity says a lot about the state of our hyperconnected, over-sharing world, the question you're likely asking yourself now is, "What can Snapchat do for my B2B brand or business?" The answer: more than you think.
Goin' Snap Happy
A wide range of B2C brands both big (Taco Bell and General Electric, for example) and small (like local California restaurant chain, Squeeze In) have already discovered what B2B is just now cluing into: Snapchat can be a formidable tool in your social marketing toolbox when interwoven into a cross-platform campaign. Here are just a few of the benefits that this quirky, not-so-little app offers:
Improved customer relationship-building through meaningful, personal engagement
Brand enhancement via rich-media storytelling
Ample opportunities for content to go viral
Unparalleled access to the all-important millennial population
So now that you have a sense of the "why" of Snapchat, here's a look at the "how". What can you do to launch your B2B brand on a platform that seems custom-made for B2C audiences? Luckily, there are quite a few avenues for you to explore:
Event marketing: conferences, meetups, and other events are ideally suited to Snapchat's robust location-based support. With the geofilter creator, brands can create a custom filter for a specific location, enabling event attendees to share their unique perspective and turning them into brand ambassadors.
Short-term promotions: Snapchat's ephemeral nature helps create a sense of urgency, so it's a natural for special, limited-duration offers. Discounts, access to exclusive content like white papers or studies, a free t-shirt at a tradeshow booth…there's almost no end to the ways it can be used for promotional purposes.
Product launches and sneak peeks: Storytelling is inherent to Snapchat's DNA and clever B2B marketers will find ways of leveraging this to their benefit. For example, follow a product as it moves from design to production to shipping, giving Snapchatters a behind-the-scenes look while they're waiting for it to arrive in the marketplace. Or, share an unboxing video or post snaps from a launch party.
Recruiting: Attracting the best talent – or any at all, even – can be a tricky proposition, especially in industries where there's a skills shortage (cybersecurity, for example). And in today's world, where company culture is increasingly important, Snapchat can be a secret weapon in the hiring race. This is particularly true for reaching millennials concerned more with work-life balance than money. Organizations can show off a day in the life of an employee, share company events, or promote an internship program, all through a few well-done snaps.
Despite its tender age, Snapchat has successfully carved out a place for itself in the social media world…and in marketing and PR, too. While B2B marketers haven't fully caught on to the upside that the platform offers, it won't be long now. Snapchat's benefits make it a good choice for B2B, and that's definitely something to cheer about.