Show your customers you care – download, customize, and share our free Valentine's Day social media greeting cards: bit.ly/IPValentines
Roses are red,
Violets are blue,
Here's how to tell customers,
"We're thinking of you"
Ahhh, Valentine's Day, with its chocolates, flowers, frothy greeting cards, and over-the-top marriage proposals. Festooned as it is in red bows, pink tissue paper hearts, and chubby arrow-wielding Cupids, Valentine's Day isn't all that relevant in the B2B space, right?
Wrong.
Undoubtedly the Hallmark-iest of all the "Hallmark holidays" out there, Valentine's Day rarely sees B2B enterprises sending customers roses and a drippy greeting card professing their affection. But, what if brands approached it as a chance for a little lighthearted, non-sales oriented engagement? Not surprisingly, telling customers, "We appreciate your business!" is always a good idea. Valentine's Day offers the perfect opportunity to do just that.
Valentine's Day and B2B – Made for Each Other
How can brands fold Valentine's Day seamlessly into their marketing mix? Equally important, how can they do it without coming off as cheesy or cheap?
One good idea is to leverage proven content marketing tactics to make existing customers feel valued and tempt potential customers into engaging with your brand. For example, Cisco did a remarkable job of this when it produced its now-classic Valentine's Day video. The whimsical video was called out by no less than the New York Times and seen by tens of thousands of possible customers. So, how can you replicate this success? Here are a few suggestions to get you started:
Offer a sweet treat.
Putting the final touches on a new white paper, analyst report, or video? Surprise current customers with an exclusive advance peek before making your offering available to the general public as a thank you for their business and loyalty.
Give customers a gift for their customers.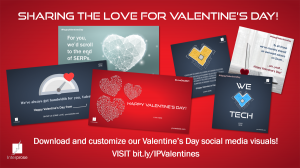 Deliver some added value for your customers by thinking about their customers. Create a free holiday-themed wallpaper, digital greeting card template, or social media graphics that customers can tailor and send to or share with their own clientele… kind of like the ones we've created for you.
Enlist employees' help.
I don't know about you, but I'm crazy for those "behind-the-scenes" featurettes and blooper reels that you find on DVDs and YouTube. Why? Because I love seeing the human side of those who make the magic happen on the silver screen. This same concept can be easily applied to your business. Why not make a short video showing the day in the life of a team; snap candid photos of (willing) employees; or gather testimonials from employees about why they love their work and turn them into a series of Valentine's Day-themed graphics that can be shared via social media? The possibilities are endless!
Sweets for the Sweet
To summarize, there are many ways for B2B brands to successfully capitalize on the Valentine's Day holiday without going overboard or being heavy-handed. Do be sure keep it lighthearted, use business-appropriate messages and humor, and stay away from schmaltzy sentiment. In no time at all, you'll find that Valentine's Day and your brand are a match made in heaven.
Our Gift to You: Free Content Pack
To make it easy, we've created a social media pack of 7 rectangle-sized and 6 square-sized social media images perfect for customizing and sharing on your Twitter, LinkedIn and Instagram platforms. Download our free Valentine's Day social media greeting card pack here: bit.ly/IPValentines
---
At Interprose, we create original, compelling thought leadership content that serves your prospects and clients' needs. Feel free to contact us to learn more about our content and creative services.
Have other questions about social media marketing? Feel free to connect with me on LinkedIn.
---
This post was originally created in February 2018 and has been updated.