These days, there's a lot of buzz around "brand journalism". But what exactly is it? And should you consider it for your organization? Quite simply, brand journalism is journalism produced on behalf of a brand. But while it aligns with journalism, brand journalism is a completely separate beast in that it isn't objective by nature. In fact, it has a specific objective: telling a story that builds a brand and attracts relevant audiences.
You're probably wondering, isn't that just content marketing by a different name? Not quite.
Content marketing is campaign-based, ad-driven, and aimed at moving people in a specific direction – namely to buy. Whereas brand journalism is more of a journey, requiring a bit of a shift in thinking in how companies approach both brand awareness and brand building. Unlike traditional brand marketing, brand journalism keeps the audience – not the company – front and center. It marries traditional journalism, marketing, and public relations, and leverages digital publishing and social media to weave engaging stories and content that informs and educates rather than drives action. Brand journalism tells a good story instead of providing useful content alone, inspiring readers, and highlighting brand value from a different point of view. It helps businesses to build thought leadership by enabling organizations to deliver highly narrative content directly to consumers, forging the personal connection that they crave.
It's no secret that news organizations are changing. Traditional journalism is in a transition period, and newsrooms don't have the resources – both in ad revenue and reporters – to cover middle-of-the-road stories that aren't focused on some looming crisis or innovative breatkthrough. Add to that the fracturing of the news media, leaving some to question its reliability and accuracy. This perfect storm of factors has created a news vacuum…and an opportunity for brands to step in and fill the void. Brands are beginning to realize that banner ads and marketing copy aren't effective at conveying their story. Remaining relevant means producing quality content that's interesting to their customers. The more engaging content a brand can produce and publish, the more effective their lead-generation efforts will be, ultimately driving more sales. 
Big brands that have embraced brand journalism create standalone sites that look and act like a news site. There they showcase the great things about the organization – its people, its expertise, its philanthropic pursuits – and topics relevant to its business in authentic and highly credible ways. Here are a few of my favorite brands that have mastered this trick:
The Network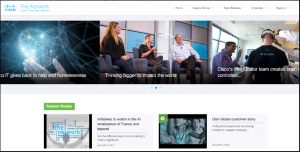 – Cisco's technology news site aims "to lead the conversation, to spark engagement, to identify trends relevant to our business and the industry."
CMO – Adobe's CMO is a springboard for building thought leadership in marketing and demonstrating its "commitment to helping CMOs lead their companies in a digital world."
Reports – GE launched Reports to "tell stories about its people and its innovations."
Getting started doesn't require an all or nothing commitment; brands can start small and build up as they gain traction. One great place to start is with your company blog. Tell a good story in journalistic fashion that showcases your expertise. Are there questions customers or prospects routinely ask? Write a blog post answering those questions. Never forget, it's all about the audience. Focus on the issues and trends that matter to your customers and prospects, spend time uncovering new angles on an existing subject, and be timely, relevant, and authentic. Offer insight, entertainment, and awareness. But most of all? Tell a compelling story.