So, the SyFy Network just announced a new series that I can't wait to watch: "The Internet Ruined My Life." According to SyFy, the show "exposes the unexpected perils of living in a social media obsessed world" and "reveals how people just like you and me inadvertently ruin their lives in one keystroke."
Pretty heady stuff. You'd think by now, everyone would know better. But apparently that's not the case, because it just…keeps…happening. Search "social media backlash" on Google and you'll find yourself awash in links leading to eye-popping examples of spectacularly bad decision-making. Like the pet owner who thought posting a Facebook photo of her dog with its muzzle duct-taped shut was a brilliant idea (it wasn't). Or the woman who was infuriated that restaurant servers would rather tend to a 70-year old heart attack victim than finish waiting on her table. And who can forget that University of Oklahoma fraternity whose racist chant was posted to YouTube for all – including their parents and future employers – to see?
Sadly, the carnage isn't limited to just individual users suffering the consequences of bad social media choices; both big brands and small businesses are guilty of it, too. Just ask F&R Auto Sales, Tinder, or Amazon. (Side note: don't pick a fight with people who buy their ink by the barrel or their bandwidth by the terabyte. Just sayin'.)
Even now, brand marketers still haven't fully come to grips with the true nature of social media: it's a volatile environment that must be approached – and managed – strategically. It's a skill that even the most socially experienced brands can fail at. Just take a look at these outstanding examples from 2015, and the lessons that can be learned:
Coke's #MakeItHappy Campaign Gets Hijacked. Coke launched a social media campaign turning tweets hashtagged with #MakeItHappy in funny ASCII art. With a little extra effort, the upbeat, feel-good campaign could've been the brand-enhancing success that the company hoped for.
Unfortunately, it wasn't to be – the perpetual bad boys at Gawker managed to trick the beverage giant into tweeting out ASCII images containing text taken from Hitler's Mein Kampf. In the end, Coke was forced to shut down the campaign. #NotSoHappy
Lesson learned: Make sure you examine your social media campaigns from every angle before you launch. Spend the extra time and resources required to ensure your brand doesn't suffer unexpected consequences from a grand idea gone wrong.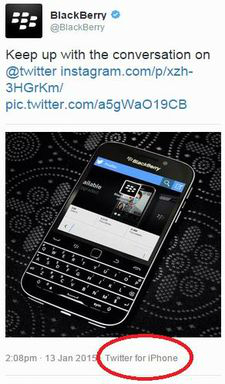 BlackBerry's Tweets Send the Wrong Message. Getting people to talk about your brand in the socialverse is a laudable goal. Getting them to talk about your brand because you didn't pay attention to details? Not so much.
Smartphone maker BlackBerry followed all the right rules for crafting a successful tweet – a snappy call-to-action statement, leading to a link, and backed up by a beauty shot of the product. It was eminently sharable…but for all the wrong reasons. BlackBerry's tweet was sent from an iPhone, a detail clearly visible to anyone using third-party Twitter applications like Tweetdeck.
What's worse? This wasn't even the first time the company had been caught using a competitor's product to promote their own. Nothing builds confidence in a brand like knowing its employees prefer to use someone else's products rather than its own.
Lesson learned: Sweat the small stuff. Pay strict attention to the fine details because even if you don't, the socialverse will.
Those Who Cannot Remember the Past are Condemned to Repeat It. Apparently having learned not a dang thing from the #AskJPM fiasco (or even Coke, for that matter), SeaWorld, author E.L. James, and even The Donald rolled out Twitter "Ask Me Anything" (AMA) Q&As, with predictable results.
Twitter trolls reveled in opportunities to hurl abuse at these easy targets, peppering them with questions like, "Do you really believe Shamu Stadium is the most advanced marine mammal habitat? Have you seen the ocean? #AskSeaWorld" and "Which do you hate more, women or the English language? #AskElJames". I'm not even going to try to touch the crazy that came and continues to come out of the #AskTrump AMA (you'll just have to go read it for yourself).
Lesson learned: Having a poor grasp of your brand's perception among social media audiences is an entrée to danger. Know what you're getting yourself into. And as I've said previously, always be prepared with a social media crisis plan in your back pocket, ready to go at a moment's notice.
Do What, Now? In August 2015, pen manufacturer Bic South Africa posted what it thought was an empowering Facebook ad for National Women's Day, encouraging women to "Look like a girl, act like a lady, think like a man, and work like a boss." The ad had just the opposite effect, enraging its target audience rather than producing any feel-good vibes. One deleted quasi-apology later, Bic finally managed to issue a sincere mea culpa that finally (sort of) quelled the furor.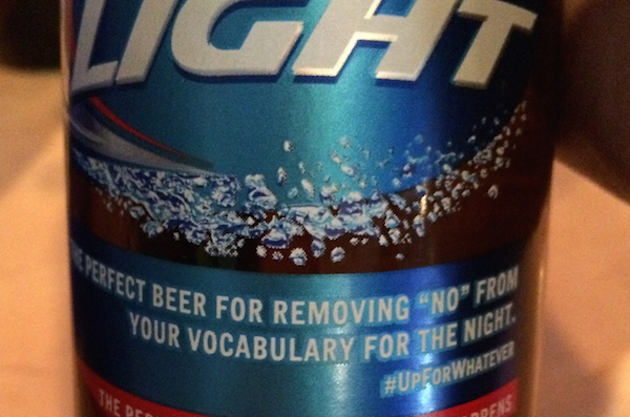 Not to be outdone, Bud Light launched its own #UpForWhatever campaign, hoping to strike the right lighthearted note with consumers. Its questionable (and as Salon puts it, "perfectly avoidable") tagline choice, "The perfect beer for removing 'no' from your vocabulary for the night", didn't just fall on deaf ears – it outraged potential customers (and social activists) of both genders. The brewer quickly backtracked, saying, "It's clear that this particular message missed the mark, and we regret it. We would never condone disrespectful or irresponsible behavior. As a result, we have immediately ceased production of this message on all bottles."
Lesson learned: Brands cannot be tone-deaf when crafting messaging for social media campaigns. Be aware of trending topics and current events. Remember that risqué messaging can be used effectively, but only if done carefully and with much forethought.
Don't let these goofs and gaffes scare you – social media remains a wonderful, effective avenue for reaching and engaging with diverse audiences on a global scale. But, it's also a fickle medium that can turn a promising opportunity into a sticky situation. Being well prepared in advance and expecting the unexpected will help you and your brand make the most of the socialverse. Happy socializing!