Diversity still matters, according to this recent McKinsey Quarterly article, and inclusion and diversity are critical for business recovery, resilience and reimagination. The article cites McKinsey research that found women tend to demonstrate, more often than men, five of the nine types of leadership behavior that improve organizational performance, including talent development. Women also more frequently apply three of the four types of behavior—intellectual stimulation, inspiration, and participative decision making—that most effectively address the global challenges of the future.
McKinsey's research has also repeatedly shown that gender and ethnic diversity, inclusion, and performance go hand in hand. I agree completely, and believe it's important for business leaders to celebrate diversity and provide opportunities for their employees to serve as spokespeople and brand ambassadors for the company.
For example, at Interprose we work with our B2B technology clients to raise the public profile of women and people of all ethnicities by authoring articles, being active on social media, speaking at live and virtual events, and conducting media interviews, to establish them as industry thought leaders.
Investing in your staff to foster thought leaders not only helps advance their careers, but it raises positive visibility for your organization and reinforces the company's brand integrity.
Industry experts should reflect society as a whole. Readers, viewers and listeners appreciate people who look and sound like them. Women are inspired by other women, young people are motivated by other young people, individual ethnicities resonate with each other. There are excellent industry groups that celebrate diversity and provide a platform for their voices, such as: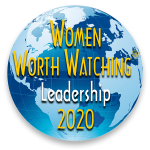 As an advocate for diversity and inclusion, I'm honored to be named by Diversity Journal among the 67 winners of the 2020 Women Worth Watching® in Leadership Award. I congratulate all of the outstanding women who have led key business units, driven new markets, launched their own ventures, and helped develop the next generation of women leaders.
---
If you're looking to further your career or build your company brand through thought leadership, contact us today.