In a booming data-center infrastructure industry in which market positions and business relationships were rapidly developing, Adolite wasn't going to wait its turn. With Interprose, the company worked very quickly to assemble and execute on a complete marketing plan and program that would successfully introduce the Taiwan-based startup to the world.
CHALLENGE: Move early
For audacious Adolite, North America was the biggest stage, and the company was eager to make its debut. The startup optical-networking innovator had recently launched manufacturing in Taiwan. With so much data growth around 5G, cloud computing and the Internet of Things, there was no shortage of companies jockeying to stake their claim to pieces of the burgeoning optical market. Adolite identified the premier trade show in its industry, California's OFC, as the ideal coming-out party for the company.
STRATEGY: Starting from scratch
Interprose and Adolite set out to create and execute the company's market launch in North America with promotional and awareness-building activities leading up to, during and post OFC.
For starters, Interprose:
Led a messaging workshop and media training session with Adolite executives.
Conducted a website audit and built a plan for new digital marketing assets.
Produced an introductory video, white paper, new website and other sales collateral.
Consulted with Adolite on successful lead generation and event/booth promotional tactics.
Embarked upon a social media campaign to introduce the company.
Prepitched media and analysts, setting up introductory briefings at OFC.
Secured and created content for blogs and contributed articles in top-tier industry publications.
Advised and crafted Adolite's introductory story and wrote the news release.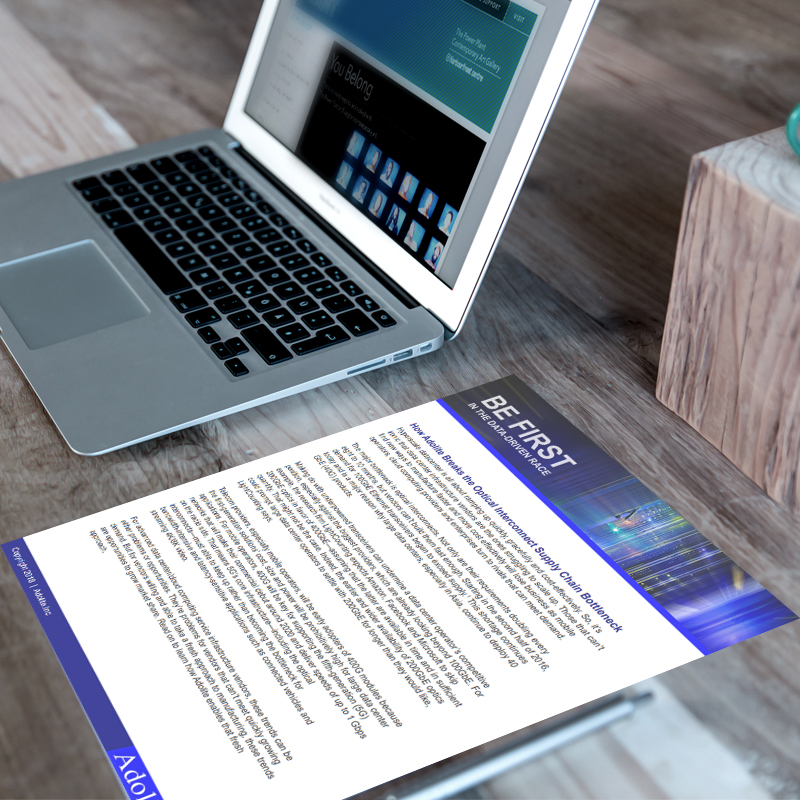 Then it was show time. Interprose arranged for interviews with targeted media and analysts, and provided on-site support to drive traffic to the Adolite booth at OFC.
RESULTS: Partners, prospects and advocates
Interprose leveraged its expertise, insight and industry relationships, and, in turn, Adolite was able to meet channel partners, sales prospects, and key media and analysts. Announcement of Adolite's launch resulted in significant coverage in key industry publications like Digital Journal, Telecom Ramblings, TMCnet.com and Techbriefing.net. Converge! Network Digest, Lightwave and FierceTelecom, among others, featured Adolite spokespeople. The complete market launch program Interprose developed with Adolite successfully prepared the company to enter the North American market.