Events are a versatile tool to disseminate key messages, create communities, showcase products, and more. So, when the worldwide pandemic put a freeze on in-person business gatherings, many companies and organizations shifted to virtual events.
The good news: virtual events allow exposure to attendees from every corner of the globe, many who may not have had the opportunity to attend in person before.
The bad news: According to a report from the Oxford Economics and Events Industry Council, nearly 2 million events occur annually – and that's just those gatherings of 10 or more people, for a minimum of 4 hours in a contracted venue. That's a whole lot of events potentially going virtual.
As the Internet is flooded with these online gatherings, organizations need to think critically about how best to attract and serve their audiences. The strategy, planning, and care you would give to an in-person event must be revamped when thinking about a virtual event. An in-person event permits people to be physically separated from their offices and homes, alleviating some of the day-to-day responsibilities. However, when the event is virtual, that physical separation doesn't exist. Therefore, you need to consider the amount of time your attendee can actually remain engaged and participate in a virtual event.
For example, a one-day in-person event might have six hours of content. You may consider shorter durations spread out across a few days or weeks to cover that content. With virtual events continuing to gain momentum, here are five tips to help you attract registrants and keep your attendees engaged.
Tip #1: Recognize a new audience
Without the travel and time commitments of an in-person event, you have the opportunity to reach a new, broader audience. While it's great that in theory more people can attend your event than if it were in-person, it also means your audience might look different, especially if it's an annual event that is now virtual. Take time to think about this new audience – for example, they might be newer to your brand or organization. Consider creating some beginner tracks or sessions geared to newcomers. Think about using this opportunity to educate and welcome these new attendees. Here are other recommendations for serving these new audiences:
Incorporate translation elements to your site to reach a more global audience
Invest in deeper chat features, so people can in real-time interact with your registration site to learn more about your organization and the event
Equip your return attendees with roles to welcome newcomers
Tip #2: Offer real-time sessions that compel people to attend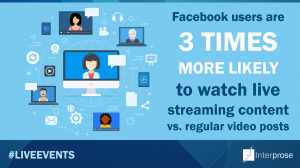 If you want people to attend and engage in real-time, give them a reason to. The lure of having everything pre-recorded is strong; you can dodge some technical hiccups and provide the recording on-demand forever. But, having everything pre-recorded doesn't provide much incentive for your attendees to join real-time. Interaction is a key component of an event, so you want people to engage with one another. While you can still have recordings available, consider live sessions that won't be recorded to give attendees an extra incentive to join live. Recordings can also be offered as a paid add-on, which incentivizes real-time participation. Everything doesn't have to be live, so why not add some live components to help build anticipation and excitement for the event?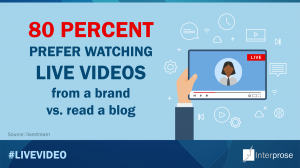 In fact, according to this research from livestream, 80 percent of people would rather watch live videos from a brand than read a blog. Viewers feel more connection and excitement compared to on-demand viewers. Also, viewers are 3 times more likely to watch a live streamed content on Facebook than a normal video. With live video building traction everywhere, incorporating it into your event is ideal.
Tip #3: Encourage cameras on for attendees
To increase engagement have your audience turn their cameras on. This helps simulate the feeling of everyone in a room together, which leads to people being more present and less distracted. The temptation to multitask is high when tuning in by audio-only, but by turning the camera on, attendees are more likely to stay engaged. As I said earlier, interaction is important in events and this helps create a sense of community by seeing others. It's an easy way to take your event from feeling like a pre-recorded lecture to an exciting place your audience wants to be at.
When moving to virtual events, you often lose those good photo ops. However, when you have everyone with cameras on, this is a great image to screen capture. This image can then be used to help promote the event or future events.
Possible bandwidth and freezing issues could arise with everyone using their cameras. You can direct your attendees to some simple troubleshooting, such as checking their bandwidth and disconnecting unnecessary devices. For larger events you will want tech support ready to help your attendees.
Tip #4: Create community
Implementing opportunities for attendees to interact and engage with fellow attendees is important. A community can be built by offering small group breakout sessions. These sessions can be structured to discuss takeaways from the latest keynote. This is a great way to increase engagement and break up long sessions. Another approach to helping attendees engage with one another is by creating opportunities on social media through a custom event hashtag and a Facebook group. People can hop on social media and easily find other attendees to see what they are taking away from the event. This allows attendees to discuss what they are learning with others interested in these topics. These tactics help simulate the discussions that happen in the hallways of an in-person event.
Building a community around your event also serves as an avenue for you to solicit feedback and reviews from attendees. It's valuable information that can be used to improve your attendees' experiences during the event or help you better prepare for the next one. Plus, you get an opportunity to gather testimonials to use to promote future events. Community building brings a lot of value to not only your event, but your brand as well.
Tip #5: Keep it fun with gamification
Create a reward system with prizes for people to engage with your content for the entirety of your event. You can award points for attending the live sessions, asking questions or posting on social media using the event hashtag. There are numerous ways to allow attendees to gain points. Rewards can range from event swag, to bonus sessions with keynote speakers, to tech gadgets. Gamification helps the attendees immerse themselves in the event. It can also help increase networking opportunities and sponsor engagement, and elevate the overall event experience. Plus, it's fun!
Need help implementing gamification? You can go low-tech and simple by having people send an email in to enter themselves into a raffle for a gift card. Or, you can run a full-blown gamification program with apps like EventMobi or CrowdCompass that allow your attendees to engage with the games throughout the event.
Going virtual doesn't mean you have to sacrifice engagement and interaction. You can still create an event that accomplishes your goals by using creativity and out-of-the-box thinking. By following these five tips, you can keep your audience engaged and wanting to come back to your next event.
---
Need help with promoting your upcoming event? Let Interprose bring its "A-game" of fresh perspectives, critical thinking and industry expertise to your endeavors. Learn more about our services.