Recently, I have been developing website banners to share and promote client events. To ensure time wasn't wasted on producing ineffective banner sizes (and there are over a dozen potential size options), I referenced Google AdSense and other marketing resources on what are the most successful banner sizes in terms of catching people's eyes on a page and actual clicking.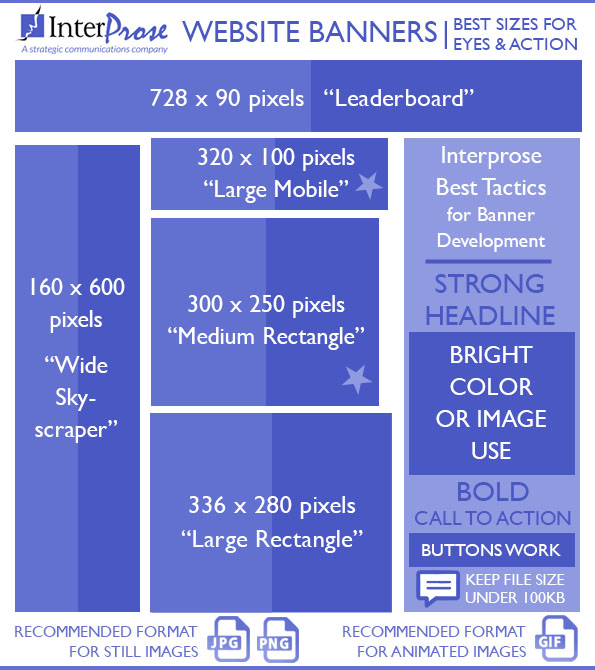 For the past decade, three banner sizes have consistently accounted for 78 percent of banner ad impressions. With the rise of people viewing sites on mobile devices, two additional sizes have been added to the mix.
Top 5 Most Effective Banner Sizes:
300 x 250 pixels, referred to as the "Medium Rectangle" size. Statistically generates more clicks than any other banner size.
336 x 280 pixels, referred to as the "Large Rectangle" size. Performs well both on sites and tablets.
728 x 90 pixels, referred to as the "Leaderboard" size. One of the oldest online ad sizes and works well at top or bottom of pages.
320×100 pixels, referred to as the "Large Mobile Banner" size. Performs well both on mobile devices and large enough not to get lost on desktop viewing.
160 x 600 pixels, referred to as the "Wide Skyscraper" and like the "Leaderboard" has been around a long time.
So we've nailed down the right proportions, but now we need a compelling message to stand out and invite curiosity enough to click.
Components of a Strong Banner Ad:
Have a succinct headline highlighting the main benefit to the viewer/potential visitor.
Draws the eye with a bold color or interesting image as the background.
Do not forget your logo. Keep it smaller than your main headline.
Vary font sizes, but do not go too small. Stick to sans serif fonts like Arial or Verdana for readability. If using a smaller banner, consider just including the headline, logo and a button.
Do not forget the call to action – as text or preferably, a button. "Click Here," "Learn more," "FREE Download," and "Save up to 50%" are all compelling choices.
Bottom line: my recommendation is to create colorful banners with a strong call-to-action in the "Large Mobile" and "Medium Rectangle" sizes are your best bet for promoting your offerings. Interprose's design department is happy to assist with your next marketing project.
Seeking promotional support for your next project or event? Contact Interprose today.