Business press coverage is the holy grail of PR. Every client, no matter the size of the company or the product they're selling, wants it. And often one of the first questions a client asks the PR team is how quickly they will land that profile in the Wall Street Journal or Forbes. However, most – though not all – business press coverage focuses primarily on large, publicly traded companies that have an impact on financial markets and people's daily lives – think Facebook, Google, Tesla, Apple.
On top of that, business reporters also face the same 'do more with less' model that has so greatly impacted technology press. Adding to this is the industry-wide shift to online media. Driving pageviews and ad clicks are now in the purview of the business reporter, and play an increasing role in the news cycle. Gone are the days of writing one in-depth piece for the daily print edition. Instead, reporters are asked to write one story for the print edition, two blogs for the website, oh and how about a video piece to go along with the various social media posts? And we haven't even touched on today's voracious 24-hour news cycle where reporters are under pressure to publish multiple stories each day.
While it may seem like the path to business press coverage is all but impossible for a company that isn't large or publicly traded, there are strategies that can lead to success. And in certain situations it makes a whole lot of sense for smaller, less visible companies to pursue business press. For instance, when establishing credibility in the market, preparing for a funding round, or showing momentum to the board, business press is an important goal.
Being completely realistic going in is the key to developing your business press plans. It is without a doubt a marathon, not a sprint. Securing business press is a long-term strategy that can take months of working tirelessly pulling together all of the necessary elements of the story, pitching, following up, and re-pitching, following up again, sharing a new angle, following up one more time, and which, after all is said and done, may still not go anywhere. Patience and deep breathing are your mantras here, because when that Forbes piece does hit, it will have been SO worth it!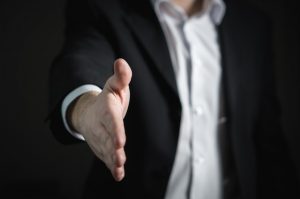 In PR, relationships – you know, the R in 'PR' – are our caché, and perhaps nowhere else is this more important (and more honest) than when working to secure business press. Reporters today are busy, working with a skeleton crew, at a frenetic pace. Technology companies looking to land that prime piece of real estate need to be aware that there are even fewer technology business reporters to influence, so here's where building a relationship is critically important to landing that tier-1 piece.
You want to be the one they come to when developing a story about the latest technology trend. But relationships do take time to germinate (see 'marathon' above) and just because a reporter is busy doesn't mean it's not worth making the connection. Start small, and get on their radar as you're working behind the scenes to package your pitch. Comment on their blog, retweet them, Like their latest Facebook post. People, even business press reporters, are much more likely to open an email sent by a name they recognize.
Take advantage of the 24-hour news cycle. Round-the-clock information has created a need for more sources and content than ever. How do you put this work to your advantage? Pay attention to the trends in your industry and offer insight that ties in your company. Inserting your company into a breaking news story a reporter is already writing not only helps them get their job done, but pays big dividends in the resulting coverage. The underpinning of this strategy is the ability to act fast and be ready at a moment's notice with a provocative point of view and/or relevant data. If your client is agile, available, and prepared with insightful content, they can capitalize on this frenetic pace.
Business press is just one aspect of an integrated communications program, however the high-profile nature of a story in the New York Times means it is also highly sought after. Success is possible with the right perspective, right attitude, and the right strategies.